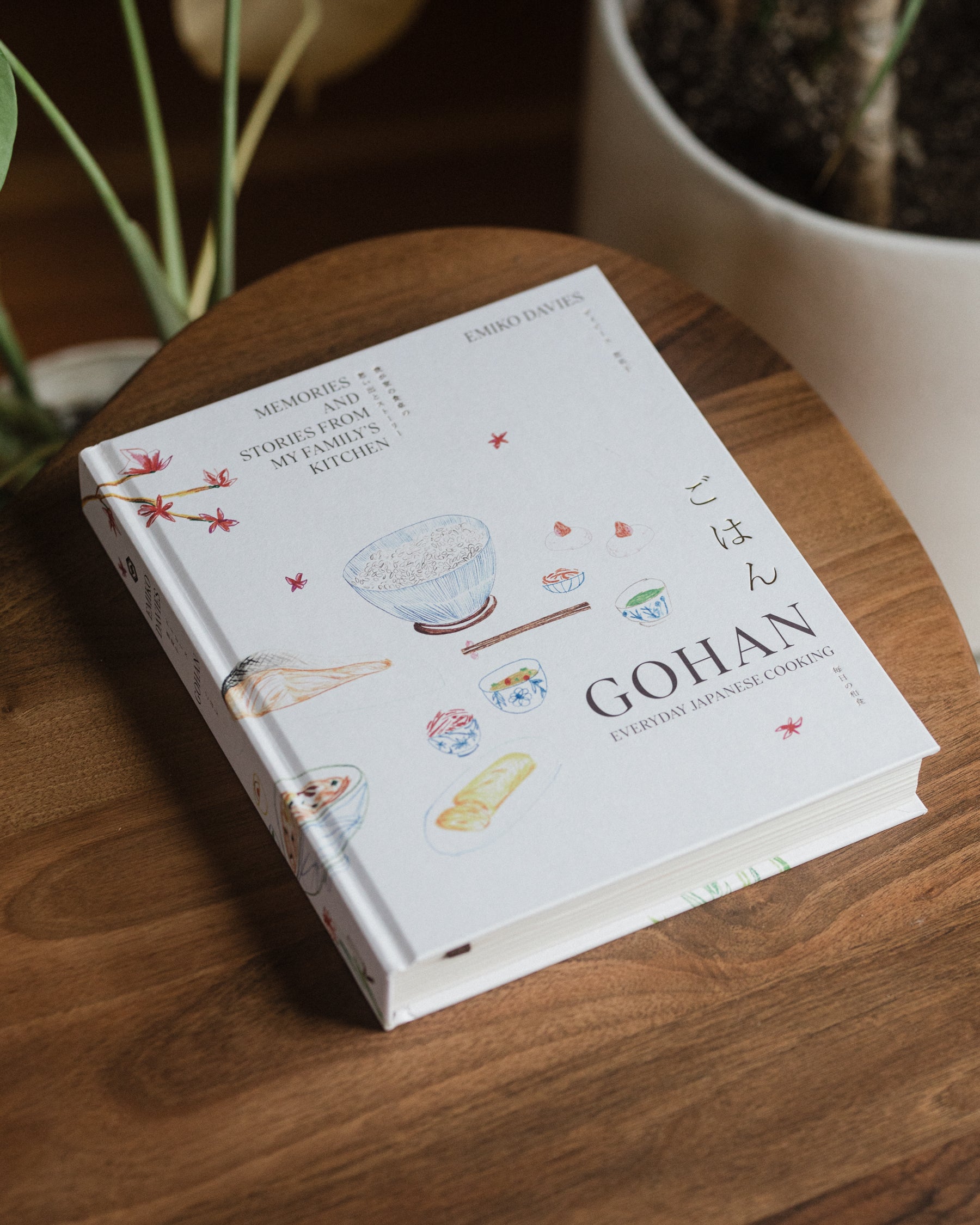 A Weeknight Delight
An excerpt from Gohan
Welcome to a culinary journey into the heart of Japanese home cooking with "Gohan" by Emiko Davies. In this delightful cookbook, bestselling author Emiko Davies takes us on a flavorful exploration of everyday Japanese cuisine. Rooted in tradition and brimming with simplicity, these are the cherished recipes that have graced Japanese family tables for generations.
At Old Faithful Shop, we believe that the essence of great cooking lies in the marriage of tradition and accessibility, and "Gohan" beautifully embodies this philosophy. From comforting miso soup and tamagonogohan (stir-fried egg and rice) to the umami-rich flavors of Japanese curry, this cookbook showcases the art of transforming everyday ingredients into nourishing meals filled with love. Join us as we share a taste of "Gohan" with a delectable recipe that captures the heart and soul of Japanese home cuisine. Prepare to savor the essence of "Gohan" and bring the flavors of Japan to your own kitchen.
Purchase the book here
Serves 4
Shiitake & Chicken Rice
INGREDIENTS
4 dried shiitake mushrooms
250 ml (1 cup) water
1 × 5 cm (2 in) square piece of kombu
2 chicken thighs, deboned and cut into bite-sized pieces
1 tablespoon soy sauce
1 tablespoon mirin
1 tablespoon sake
1 tablespoon minced fresh root ginger
230 g (generous 1 cup) Japanese short-grain rice
½ carrot, peeled and cut into matchsticks
1 spring onion (scallion), green parts finely chopped
METHOD
Soak the mushrooms for at least 1 hour in the water with the kombu. This will make a delicious shitake dashi that the rice is going to be cooked in. Remove and discard the stem of the rehydrated shitake mushrooms and finely slice the rest, Set aside. Marinate the chicken in the soy sauce, mirin, sake and ginger for the same time.
Wash and drain the rice two or three times. Drain it very well the last time, then place the rice in a medium heavy based saucepan with a tight fitting lid.
The key to this dish is in the layering. Add the carrot (or any root vegetables you might be adding) first on top of the rice, followed by the chicken pieces, all their marinade, and the mushrooms. Add the shiitake dashi (remove the kombu). Cover with the lid, bring to the boil, then reduce the heat to very low and cook for 15-17 minutes, or until the liquid has all been absorbed (never touching the rice or ingredients). Let it rest, lid on, for a further 19 minutes to finish steaming.
To serve, toss everything together in the pot and sprinkle over the chopped spring onion.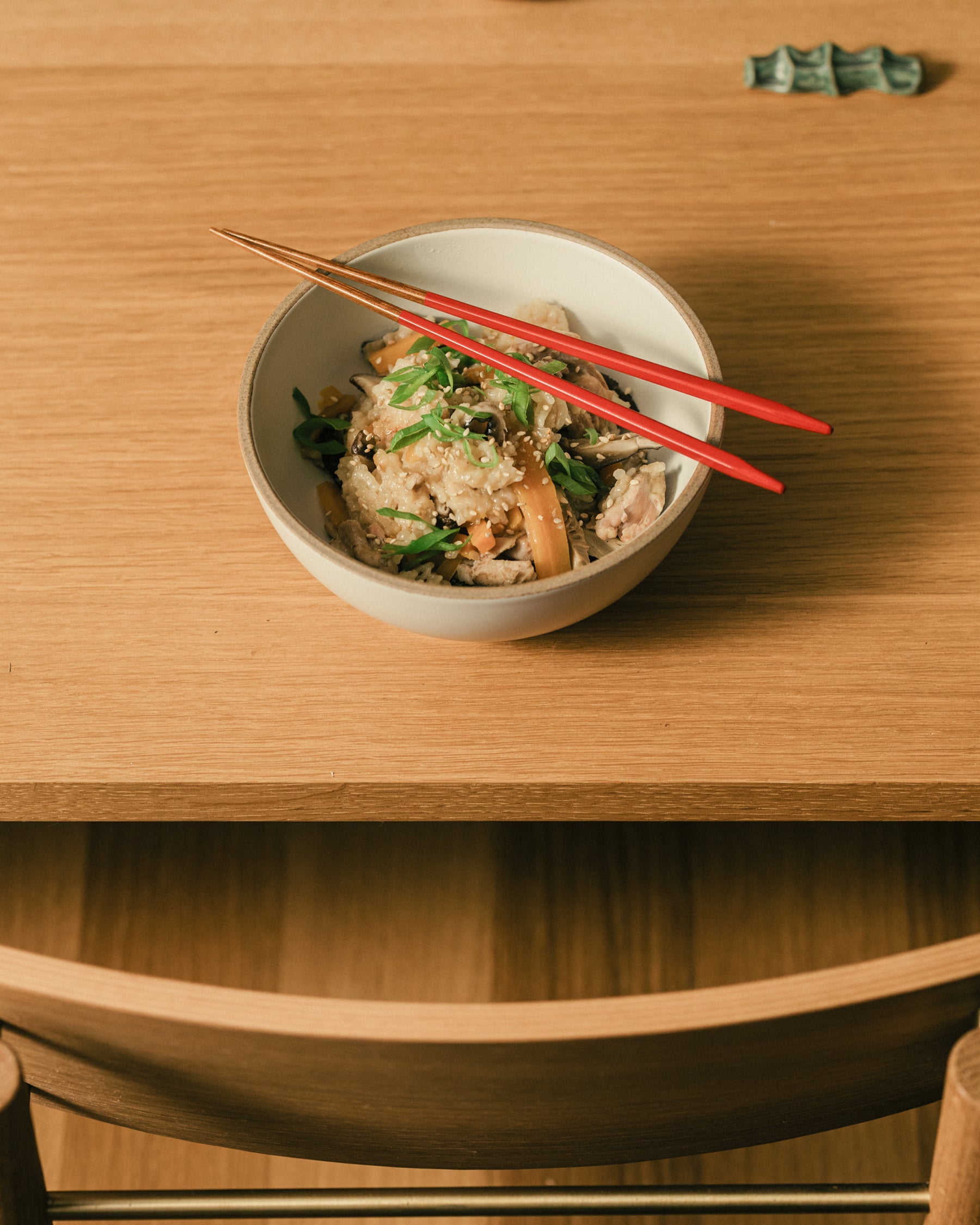 Gohan literally means 'rice' in Japanese. but also, as Emiko's mother, Sumie, says: 'Gohan means the everyday home-cooked meal. Nothing fussy, but quick and easy, and nourishing. One that is made with love.'
Purchase the book here