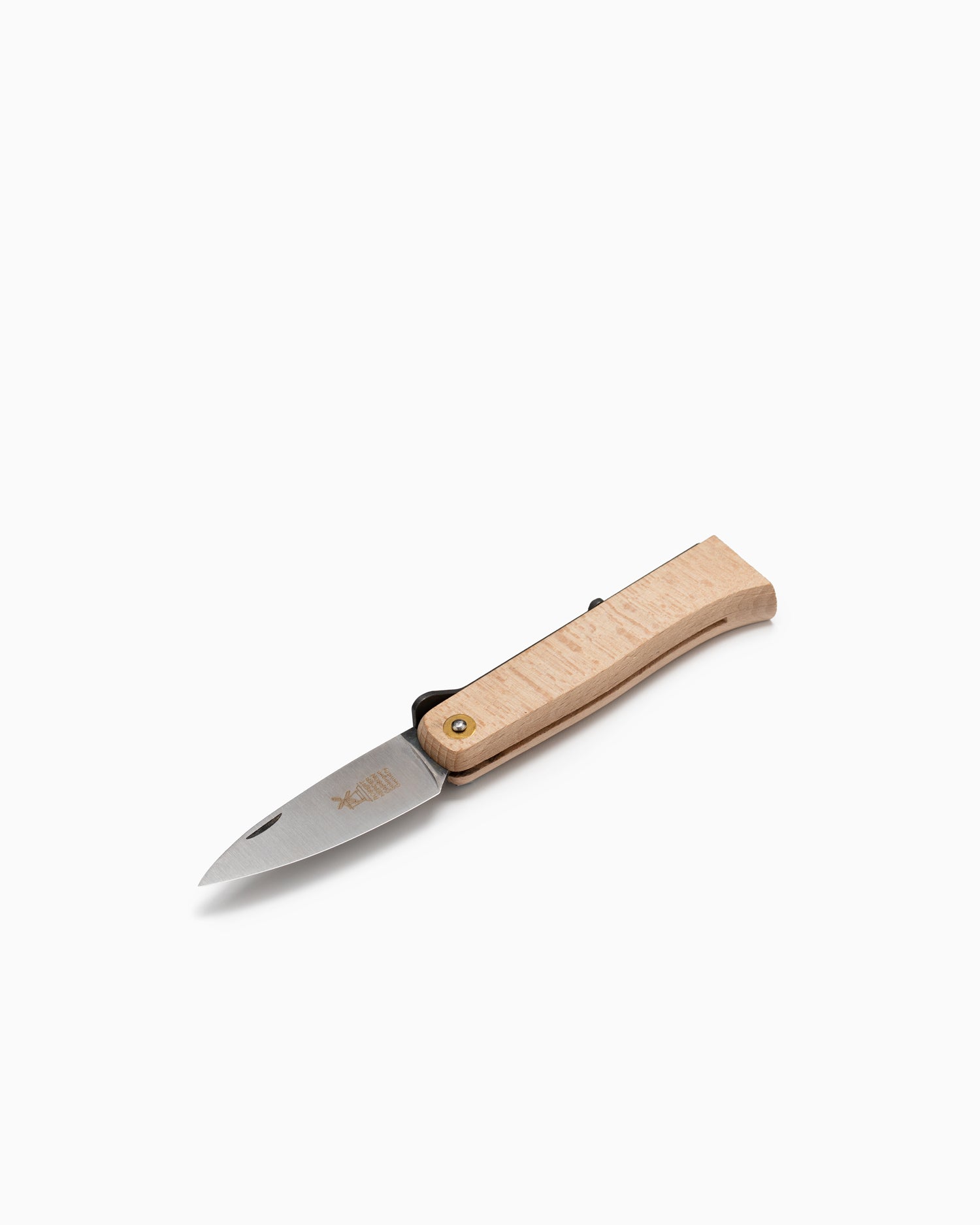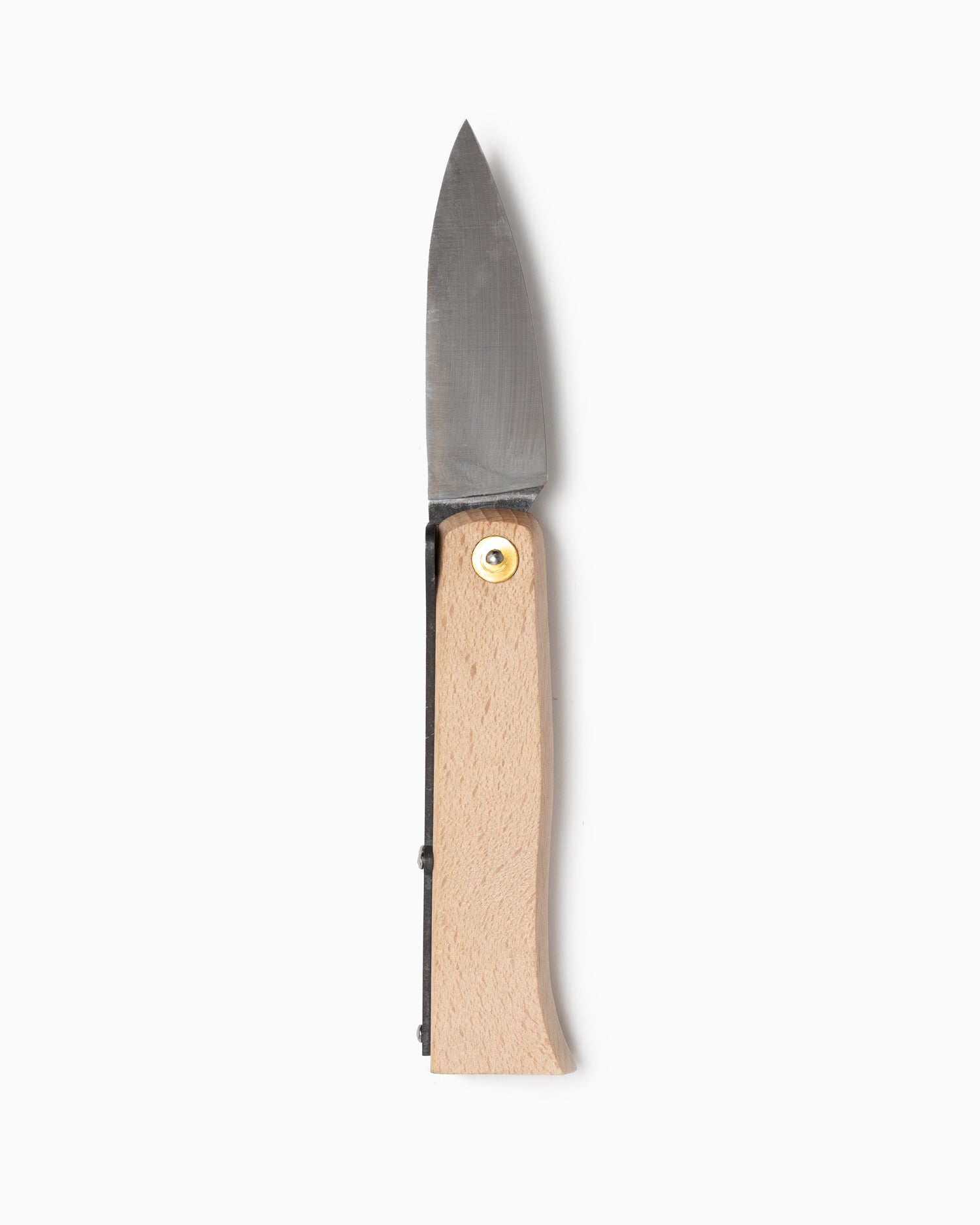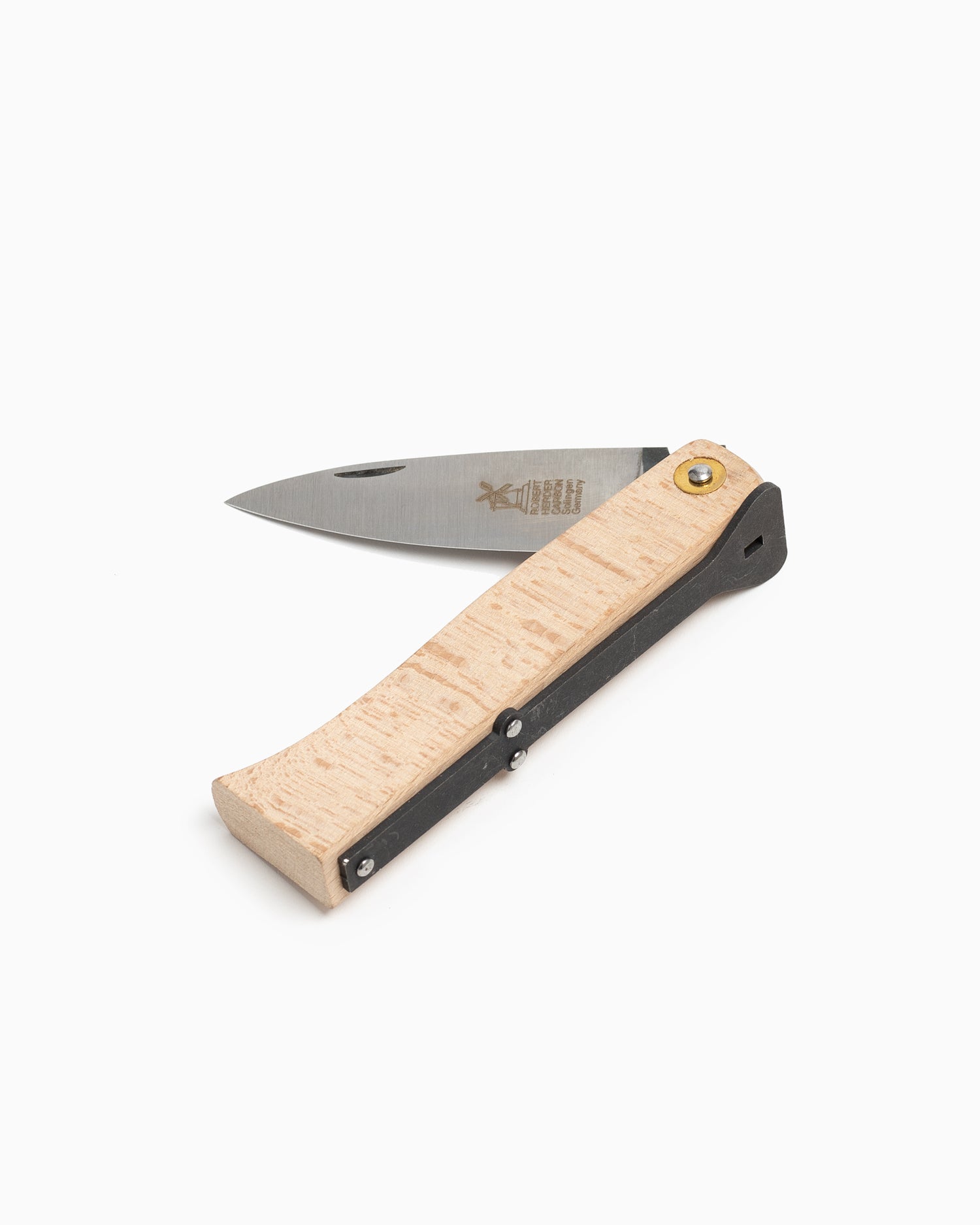 Robert Herder 'Lierenaar' Farmer's Knife
Sale price

$83.00 USD
Regular price
(/)
---
This pocket knife is a replica of an 18th century rustic working knife in the Belgium city of Lier. It's utilitarian nature made it the ideal bring along for both field and forest: cutting cheese and bread for a farmer's lunch or scraping bark for a quick fire to even cleaning the hooves of horses. 
We love this knife for slicing into fruit on a picnic or peeling away potato skins in the kitchen. 
The handle is rather angular, slightly coarse, and made of untreated beech wood. The fixing spring, made of iron, keeps the blade in place with the help of a snap-in hole: a simple, yet exceptional mechanism. Of course the blade is made of non stainless carbon steel, hardened to 58 HRC (Rockwell). It is manufactured in Solingen dry fine grinding, fine glazed and incredibly strong, despite its thiness. The broad form, with the long and slimcutting angle makes it extremely sharp and favours the high edge holding ability.
Beechwood handle, brass rivets and Carbon fine-glazed blade. 
Blade length 92 mm / 3.5 in
Overall length 205 mm / 8.1 in
From the Robert Herder Collection
"Good Knives are made by hand." Robert Herder has been living this mantra since 1872 - skillfully crafting the finest quality knives with great precision, skill and patience.  

Unlike most knives on the market today, Robert Herder's collection is still ground utilizing a dry fine grinding method and blue glazed by hand - a complex process that requires years of training to perfect. The result is an extremely hard blade that maintains a sharp edge and can be thin enough to make the most intricate of cuts. 

Each knife undergoes an intense process of more than 67 working steps. From a skilled craftsman's hand to yours, rest assured that this knife will be your go-to blade for years to come.  
Care of Carbon Steel Blades

Over time, carbon steel blades gradually discolour from use and a dark patina forms. It is completely harmless and has no effect on how the knife functions.

However if you wish, the blade can be brightened with "Vienna chalk" or a scouring agent and a coarse sponge. This returns the blade nearly to its first shine.

Easy to Sharpen

A further advantage of this material is that it is very easy to resharpen. Although it is rarely necessary, in order to recover the first-cut-sharpness the blade only needs 2 or 3 strokes on a ceramic sharpening stick or a whetstone.

Cleaning of the Blades

For cleaning the blades, fine calcium carbon-ate powder, cigar ash, soap detergent or just a scrub sponge is recommended. These remove the dark oxidation surface from the blade, but note: it naturally will darken again.

It is better to leave the dark colour, as this is its "working-colour". The dark colour is comparable to the calluses on the hands of someone who has worked their whole life. The easiest thing is to rinse it under running water after use and to dry it carefully. This will reduce discolouration.

Care of Wooden Handles

Do not soak your wood handles in washing-up water. They are also not suitable for dishwashers as this would bleach and dry out the wood. The best cleaning method is under a running tap, holding the point of the blade downwards and quickly drying with a cloth thereafter. 

This grain and the different shades of colour are accentuated even more if you apply natural wood care oil from time to time.
Pickup available at Gastown
Usually ready in 24 hours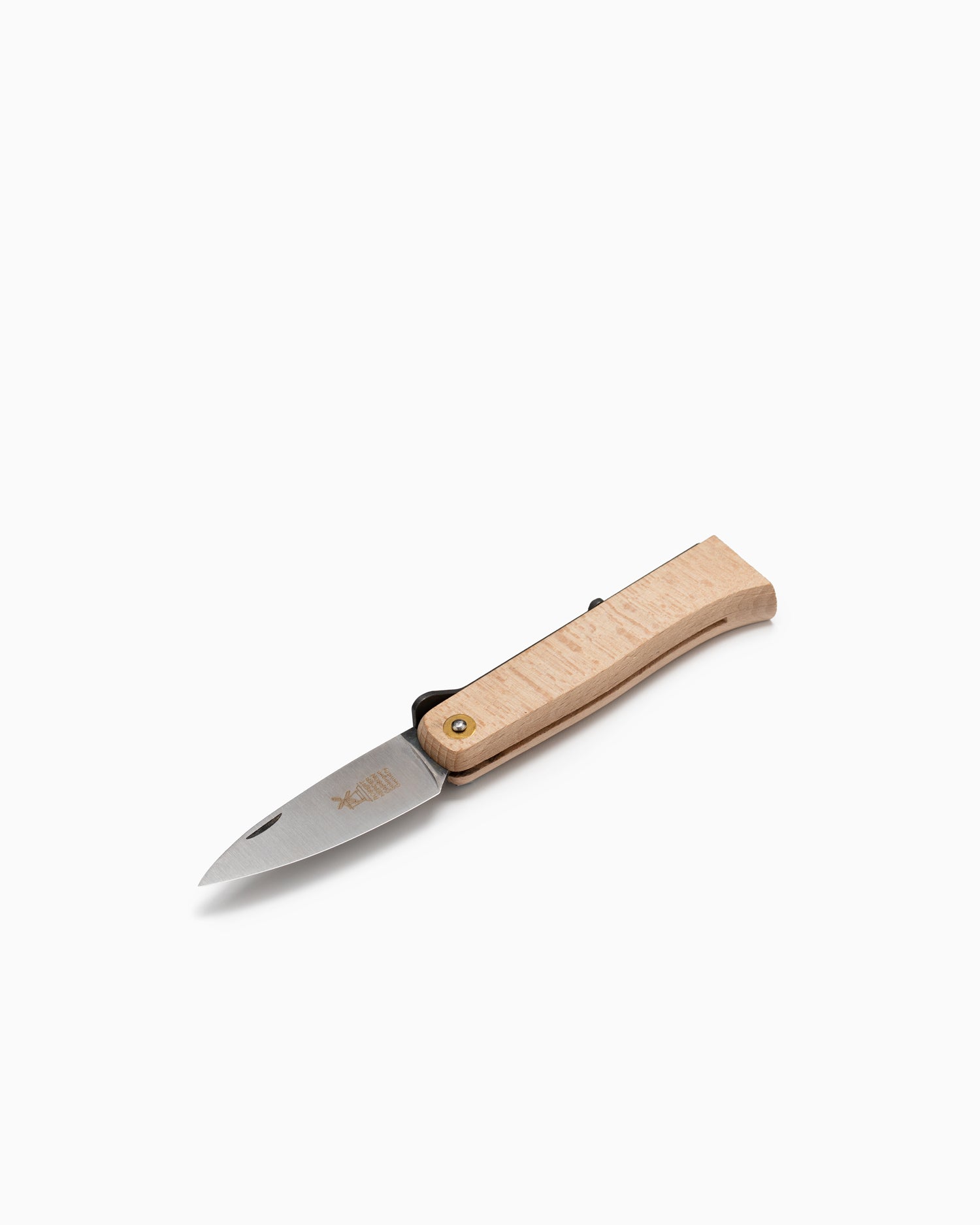 Robert Herder 'Lierenaar' Farmer's Knife
Gastown
Pickup available, usually ready in 24 hours
320 W Cordova Street
Old Faithful Shop
Vancouver BC V6B 2V2
Canada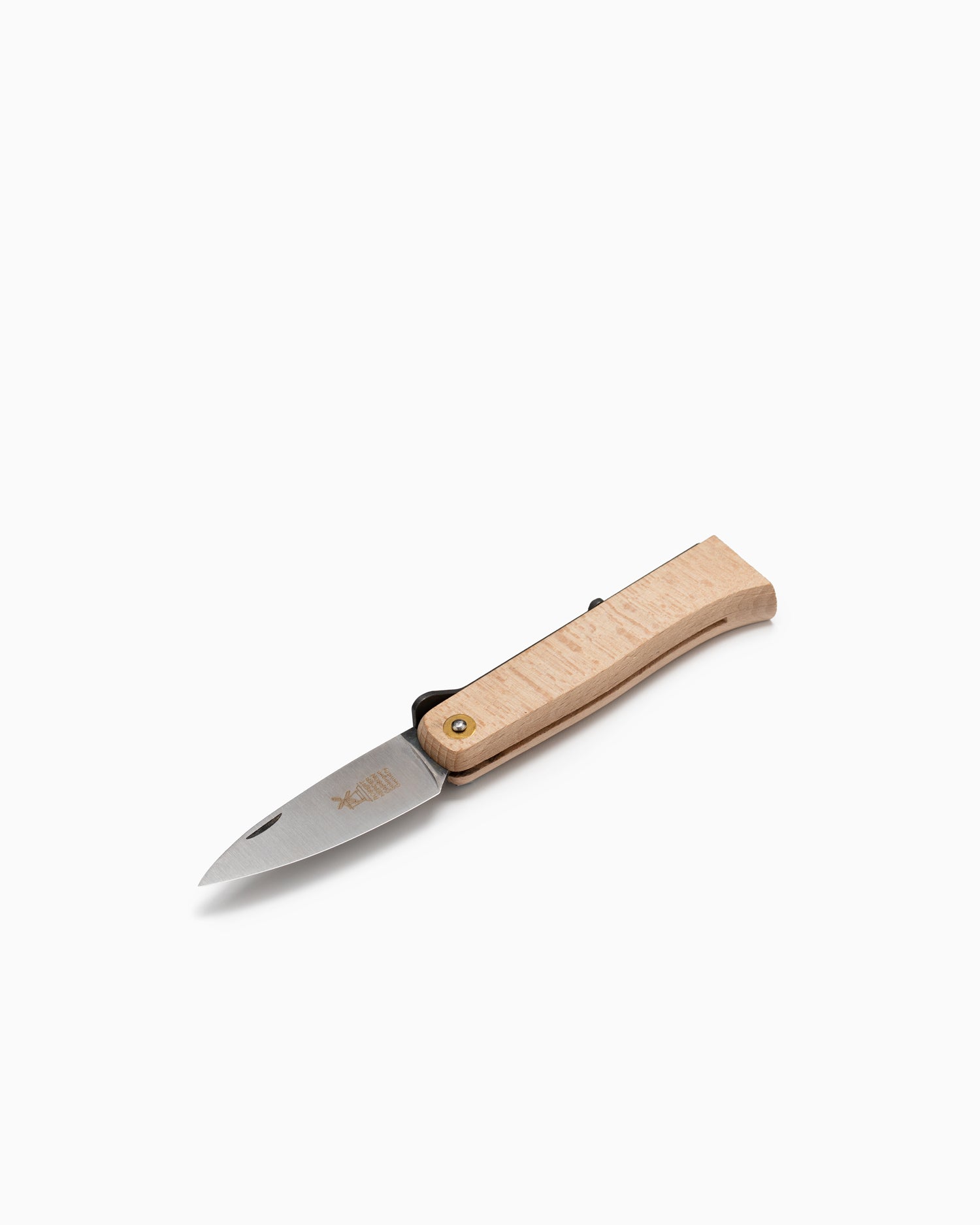 Robert Herder 'Lierenaar' Farmer's Knife
Sale price

$83.00 USD
Regular price
Choose options